Tha Heist
Description
PIT Motors: Cleveland Cycle Werks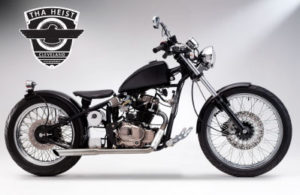 PIT Motors is a distributor for Cleveland CycleWerks, who build the Heist. This motorcylcle stock from the dealer is pretty impressive for its cost.
Dealers were marketing these bikes to the millitary for use on base as simple transportation. They wanted to customize for each branch, keeping cost low. Using the base color of the tins, I designed custom wraps to look as if it were custom painted.
There was some minor changes after designs were approved. Using the current logos for each branch of service for example. Since tha Heist is a "retro bobber" using the classic Army Star logo seemed the right choice at the time.